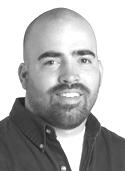 One Fan's Opinion Aaron S. Lee

Texas Roots

By Aaron S. Lee

Managing Editor, N.E.T. Sports Gazette

Lately I've been asked what prompted me to join the N.E.T. Sports Gazette team. Those who have been loyal readers of the N.E.T. site know that I've actually been a part of the team for almost two years now.

Publisher and editor-in-chief, R.K. "Bob" Speights and I go way back, and when he asked me to come on board full time in order to help him launch the N.E.T. Sports Gazette into the stratosphere, I did not hesitate. Like most people, when "Bob" hollers jump, most people ask "when, where, how high and how many times."

Our relationship dates back to my days as a sports editor for the Marshall News Messenger in good ol' Marshall, Texas – home of the Mavericks, the 1990 Big 5A state champs.

While I thought at the time during my MNM days that I was a grizzled, veteran sports writer with all the answers, I realize now that I new little and what I did know was just enough to make me dangerous with a pen and paper.

However, with the help of R.K. Speights, I was able to transform a local East Texas paper that was barely giving proper coverage to the lone town high school, into a well-read, thriving sports section covering 12 high schools, two colleges and one juco – all while maintaining a semblance of coverage on the state's pro franchises.

Perhaps no one in the State of Texas knows more about Lone Star football than Speights, a longtime member of the Texas Sports Writers Association, and without his help, I would not be the sports writer – or man – that I am today. East Texas high school sports fans have been following Speights' work for years as he began covering the Hallsville High School beat and a gradually expanded his coverage each year to include the entire state.

Therefore, when R.K. approached me with an opportunity to help him turn the N.E.T. Sports Gazette into the top Texas-football news site, I couldn't wait to jump on board.

And although we are going through a few growing pains, as I am sure you have noticed this past week with the Web site updates due to a virus (see Speight's column "Shoot the S.O.B."), it will be well worth your time and patience come Aug. 1 when the new site, new server and new mission is unveiled.

One thing you will notice even now is that we are truly dedicated to bringing you the latest information on all levels of Texas football. And if you do like what you are already seeing with just a sample of our upcoming changes – hold on – cause you haven't seen anything yet.

And while I'm a native of Louisiana (Minden, exactly – 28 miles east of Shreveport), my time served in Texas during my MNM campaign provided me with enough passion for Friday night lights to last me a lifetime – plus I married a Texas girl from Gilmer and if that doesn't earn a guy some bonus points, nothing will.

Recruits and more Recruits ...

By Aaron S. Lee

Managing Editor, N.E.T. Sports Gazette

Signing day is still more than eight months away, but N.E.T. Sports Gazette editor-in-chief R.K. Speights has combated computer problems this week (just read his latest column) to deliver what could be some of the best and latest recruiting 411 for the upcoming graduating class.

Speights has provided teasers on the N.E.T. site for the last two weeks regarding his "Texas Super 15" article, which highlights 15 of the nation's top 100 recruits according to national football recruiting expert Max Emfinger. Oh, what is more amazing - if the article's title did not already give it away - is that of those top 100, 15 hail from the State of Texas.

And talk about facts, Speights' article is full of stats, commitments and scholarship offers on each player, plus - and what you won't find on many other recruiting databases - are actual quotes from people that know the athletes the best - their coaches! Speights really did his homework on this piece ... in fact, I really enjoyed the article myself and was blown away by this particular fact:

"Seventy of the 2005 top high school football recruits come from nine states."

That is amazing ... remember there are 41 other states that play high school football, but seemingly only nine that have the talent to play it right. The article even breaks down the top nine states with Texas clearly in the forefront.

However, Speights has not stopped there. He is currently working on other recruiting articles that will be featured on the N.E.T. Sports Gazette over the next few weeks previewing the top Lone Star recruits in each position, starting with the State's top gunslingers. The. N.E.T. Sports Gazette will even feature a Fab Five for each position - you know, the guys we believe will make the biggest impact or be the biggest steal.

So keep your eyes peeled and your homepage set on the N.E.T. Sports Gazette, and, as always, if you have any football article ideas, whether on the hottest players, coaches or programs in junior high, high school (including six-man), college or pro ... please drop us a line, because the N.E.T. Sports Gazette is "Texas Football in the News!"